Three Whistler locals qualify for Junior Ski Cross Worlds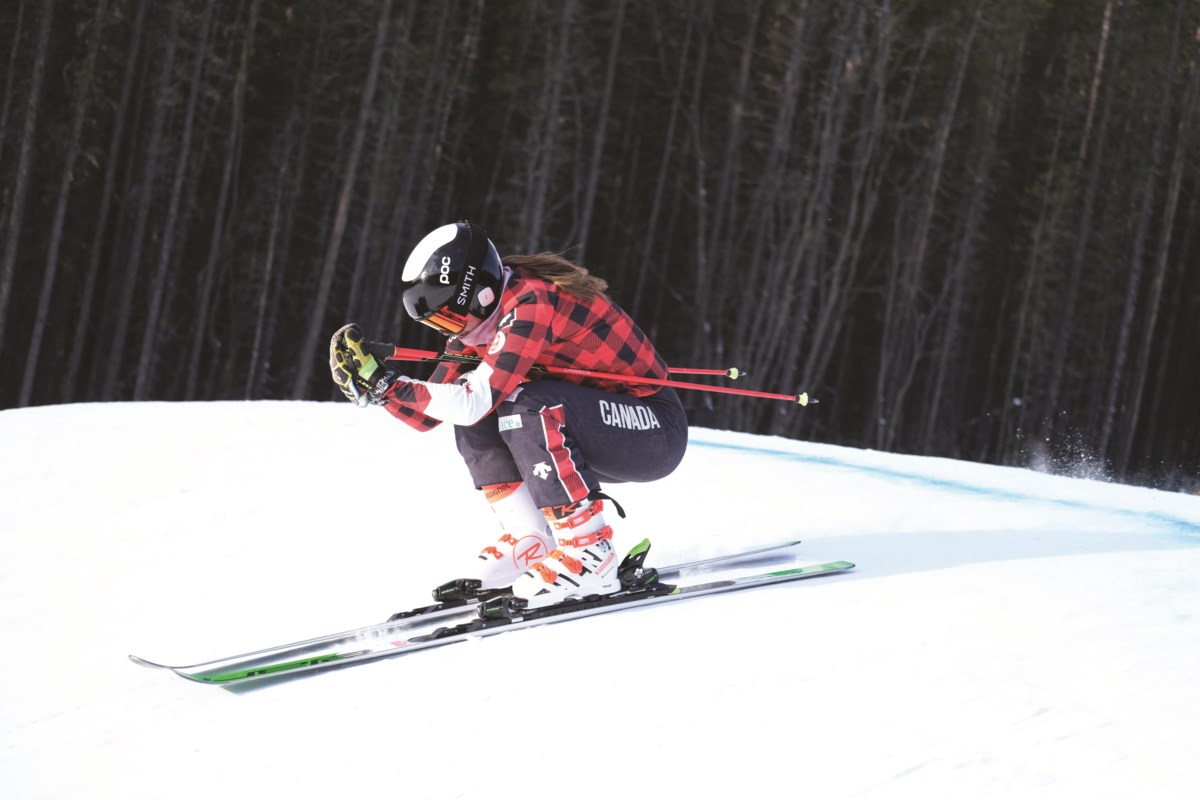 Emeline Bennett, Nick Katrusiak and Jack Morrow will put their skills to the test on the world stage later this month in Valmalenco, Italy
Local freestyle skiers Nick Katrusiak, 17, Emeline Bennett, 18, and Jack Morrow, 19, have qualified for the 2022 FIS Freestyle Skiing Junior World Championships in Valmalenco, Italy, which will take place on the 30th and March, 31st.
Heading into their first-ever World Juniors, Bennett and Katrusiak's careers so far have followed a very similar path, albeit within a year of each other.
Both spent their youth competing in alpine skiing events with the Whistler Mountain Ski Club (WMSC), but as the novelty of downhill racing began to wear off, getting a taste of ski cross reinvigorated their love. for skiing.
Both skiers have competed regularly in the annual Kids Cross events at Blackcomb Mountain over the years, but their first experience of elite ski cross competition has only recently come.
Once out of Kids Cross, Katrusiak wanted more and started competing in Western Ski Cross races with friends.
"I went to one of them to try it out and I was destroyed, but I was still super in love with it, and I was like, 'you know, I'm not going to let that get to me. stop. I'm going to keep going in those races,' and eventually I got better and started winning them," Katrusiak said.
Bennett's first real ski cross experience came in the 2019-20 season, when she was invited to a Youth Olympic Games qualifier in Alberta. And just like Katrusiak's first attempt at the starting gates, things didn't go Bennett's way and she failed to make the team. But the passion for the sport was there, and it was enough for her to devote herself to it full time.
"When I finished school in June, I kind of talked to my coaches and I talked to my parents and I was like, 'I want to ski, I don't want to go to the gym yet. college and I'd like to change to ski cross," she said.
"So I asked for a deferral, which was accepted, so I had a guaranteed gap year with a position in the program for the next [school year]. And then I went head first into ski cross and started with a new team based in Calgary and I kind of just talked to those coaches and explained what I wanted to get out of the season and I started from there.
This year, with a full slate of competitions back on the schedule for the first time in a few years, both skiers enjoyed success on the Nor Am Cup circuit and gained momentum throughout the season.
Katrusiak's season kicked off as he achieved his personal best eighth place in the Nakiska Nor Am Cup. He then surpassed that mark at the next two events with a fifth and sixth place finish at Calabogie Peaks in Ontario and his first Nor Am podiums at Gore Mountain, NY, where he managed a second and third.
At the same Nor Ams in Nakiska and Calabogie Peaks, Bennett managed to earn multiple top-seven finishes with a first, fourth and two sixths in both events.
Since then, Bennett has moved to Europe to compete on the Europa Cup circuit for the first time in her career.
Although competing against a field that is often double the size of the Nor Am Cups has been a learning experience for Bennett, she believes getting to grips with European and North American competition will be a big advantage for her when Worlds juniors will take place at the end of the month.
"The European Cup girls, most of them are older. Most of them have a lot more experience under their belts and they bring a lot more aggression to the races. So it's a lot of observation and learning… I'm trying to develop a little bit more aggression than before and keep it on par with what they're doing," she said.
"The more experience the better. And I think knowing who else will be at these events and what the scene might look like will definitely help from a mental standpoint. I think at At this point, as much as I can get myself on the right track and as much as I can watch, learn and observe, it will only make things easier.
Although Katrusiak doesn't know what the international competition he will face will look like, with some experience against the Canadian national team already this year at Nakiska Nor Am, he feels confident about his chances and hopes to place somewhere. in the top 10.
Meanwhile, Bennett doesn't like setting hard numbers on her runs, but instead hopes to focus on what she can control and be happy with how she skied when all is said and done.
"As long as I can go skiing and be proud of the skiing I've done, it's definitely a win. I think just knowing that I can ski well, and if I go out and do that, hopefully something good will happen," she said. "It's more what I like to focus on just because it leaves a lot more room for success."
Morrow, who grew up in Whistler racing for the WMSC and now races at the University of Calgary, as well as with the Evolve Ski Cross Club, was unavailable for comment before prickthe weekly deadline.