Giorgio de Maria's Paski Vineria Popolare offers exceptional Italian food and wine in Oxford Street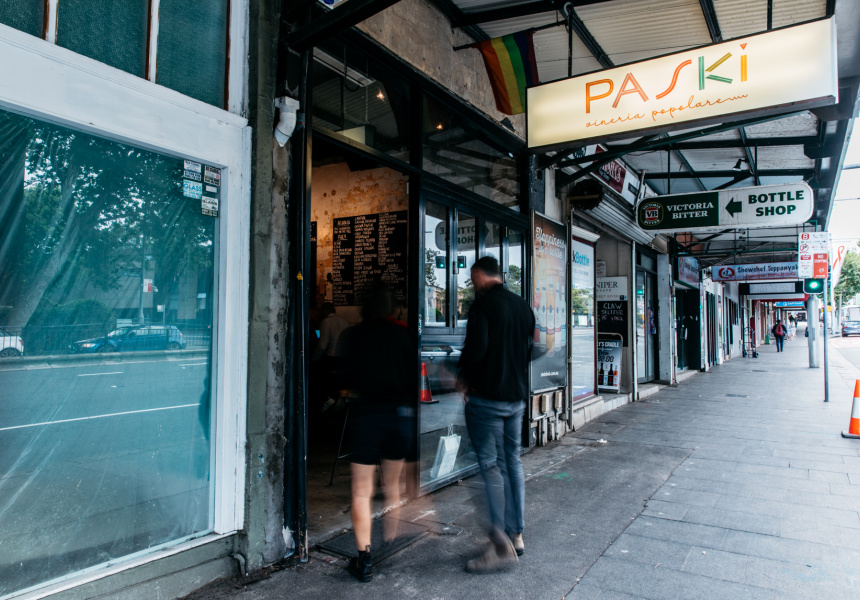 Sydney's hottest new restaurant is named after a dog, which bears the name of a wine. Paski, a border collie who lives in Bronte with his owner Giorgio de Maria, will unfortunately not be working behind the counter in the wine bar or bottle shop of Paski Vineria Popolare, nor will he help the chefs in the intimate restaurant at the stage. But it will overlook the dining room, from a bold new work of art by Gianluca Cannizzo.
The Turinese artist (who runs a graphic design company My poster sucks) was commissioned to create a room for the venue, and his large-scale artwork dominates one of the walls of the level one restaurant, Paski Sopra (sopra translates to "above" in Italian). It is based on Leonardo da Vinci The last supper but, unlike the original, this version is a wine-fueled celebration with glasses filled with enthusiastically soiled wine, and Paski sitting in front of the table, on a floor littered with broken bottles.
This is a great praise – placement in the artwork is not granted to any of the owners of the place: de Maria, Mattia Dicati and Enrico Tomelleri.
Paski Vineria Popolare opened yesterday and its arrival is great news for lovers of Italian food and interesting wines. It has moved to the space once occupied by This Must Be the Place.
Tomelleri, who has cooked at some of the city's best Italian restaurants – including Ragazzi, Alberto's Lounge and 10 William Street – is in charge of the food. Downstairs, it's all about meats and cheeses, plus a few other bites such as oysters, olives, and mussels wrapped in pancetta, kebabs and grilled.
There are a dozen meats – from bologna and sausage, including ham nuts and prosciutto – and about the same number of cheeses (made with raw, cow, sheep, goat and buffalo milk) from Australia, Italy and France. Highlights include a 36-month-old Comté, a biting pecorino, and one of this country's most famous cheeses, La Luna de Holy Goat.
The roughly 30 bar stools are surrounded by stunning illuminated shelves by the Sydney artist Dion horstmans. They stock a range of 450 bottles of small producers of wine imported via Vino Mito Wine Imports from co-owner Dicati and Giorgio de Maria Fun Wines de Maria.
Even if you are not familiar with Maria's wines, the alcohol you drink in Sydney was probably influenced by her. Few people have shaped this city's drink scene as much as Maria – first at the now closed Cantina & Enoteca 121 BC, then as co-creator of the Rootstock natural wine festival. His ideas on sustainable agriculture and wine production – especially in championing wine which is simply fermented grapes in a bottle and nothing else, free from preservatives, sulfur, or other nasty substances – drastically influenced drink trends to across the country.
Today, he continues to drive change by listing Paski wines not by variety or color, but by the people who make them. "This is how we put the emphasis on artisanal producers," he explains. "So instead of talking about sparkling wine, they will talk about those who create the wines – the producers. "
The staff will serve many options by the glass (the list is constantly changing), or you can grab something off the drink shelf for a little corkage fee. The main focus is to have dinner there, but you can buy a bottle to go (it's $ 1 less if you have a BYO bag).
Upstairs, there is a longer a la carte menu of handmade pasta, seafood and more. It's small, but thoughtful design has created some intimate spaces. Our choice is the tables at the window overlooking Oxford Street.
Here you will be able to get rare and special wines, in addition to the selection available downstairs, and on Wednesday evenings the space will be used to host tastings. "Customers can inquire and buy something from the person who sourced the wines himself and who knows each producer well. We offer a direct link with these winemakers, which will make a truly special experience, "explains de Maria.
Paski Vineria Popolare
239 Oxford Street, Darlinghurst
Hours:
Down:
Monday to Saturday from 3 p.m. to late
Paski Sopra (upstairs):
Mon & Tue, Thu to Sat 5.30pm – late
@giorgiodemariaamusingwines
@vinomito
@enricotome
@giorgiode_maria