Francois-Joseph Lodato | The Newtown Bee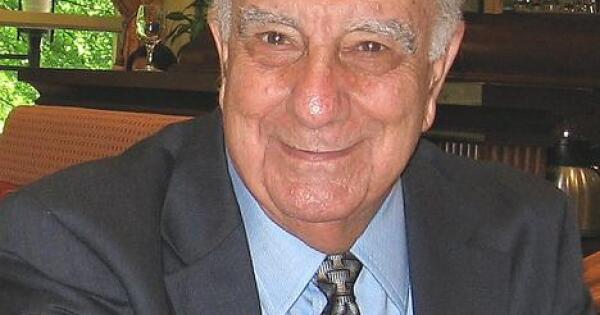 Posted: May 27, 2022 3:30 PM
May 27, 1926 to October 8, 2021
Francis Joseph Lodato died at home on October 8, 2021. He was 95 and lived in Palm Beach Gardens, Florida.
Born in Brooklyn, NY, in 1926 to Gennaro and Marietta (Adami), he had six siblings, all of whom had immigrated from Italy. Frank attended LaSalle Academy's Nativity Elementary School and earned a bachelor's, master's and doctoral degree from St John's University. He also earned a master's degree from Fordham University. The youngest of his family, he became the first to attend university. During his teenage years, he worked at A&L Manufacturing, a company founded by his brothers that remained in his family until 1970.
Dr. Lodato taught at Manhattan College from 1968 to 1990. Prior to Manhattan, he also taught at St John's University, Seton Hall University and the College of Mount St Vincent. During sabbaticals and summer sessions, he taught at Biscayne College (now St Thomas University), Our Lady of the Lake University and Barry University. In Manhattan, he was a teacher of education and was at one time director of the evening division and summer school. He has contributed articles to American Journal of Clinical Hypnosis under the direction of Milton Erickson. For 28 years he was a consultant psychologist for the Diocese of Brooklyn at Cathedral College of the Immaculate Conception in Douglaston, Queens, and in a similar position for the Archdiocese of New York at St John Neumann Residence. In recognition of his service to the Church, Frank was honored with a Knight Grand Cross of the Order of the Holy Sepulchre. He also consulted at Lincoln Hall Boys Haven for 10 years and was a school psychologist for Bedford Public Schools in the early 1960s.
Through his training in counseling psychology, "Dr. Frank" has single-handedly developed expertise in sports psychology, working with athletes in the NFL, CFL, NBA, NHL, and AHL, as well than many Olympians. He worked with the New York Giants, Philadelphia Eagles, Montreal Alouettes, Calgary Stampeders, BC Lions, Orlando Magic, Los Angeles Kings, New Jersey Devils , Boston Bruins, New Haven Nighthawks, Orlando Solar Bears, Detroit Vipers, Albany River Rats, and many individual athletes. He was an integral part of 10 championships with professional teams, including Stanley Cups with the Devils (1995) and Bruins (2011) as well as three Gray Cups with the Stampeders and two with the Lions. He is part of an elite group of people who have won championships in the CFL and NHL, and the only one to have won it in the same year.
He was a curious and thoughtful person, and one of his passions was writing. Frank has co-authored two books – Create your Christian commitment and grow lovedboth with John Barry Ryan; But we were 17 and 0with his son Raymond; Eboli to Brooklyn, one way, with daughter Denise; and an upcoming memoir with daughter Janice. He was the author of scholarly articles and frequent columns in The New York Times, Fairfield County Catholic, The Newtown Bee, New Haven Registry, and other publications. He hosted a sports psychology radio show on WLAD called "From the Sports Couch".
He first visited Italy in 1986, when he was 60, and enjoyed connecting with relatives he hadn't known until that time in his life. Their warmth and hospitality were a source of happiness. He was a firm believer in telephone contact as the primary form of communication and spoke to his loved ones daily.
Frank was married to Patricia (Casey) for 64 years and they raised three children – Denise, Raymond (Bronwyn) and Janice (Christopher), and loved their four grandchildren. They lived in New York, Connecticut and Florida during their marriage.
Interment was in St. Rose Cemetery, Newtown, Connecticut.
In lieu of flowers, please consider donations to St Ann Place Homeless Outreach Center, 2107 North Dixie Highway, West Palm Beach FL 33407, stannplace.org/donate-online; or Feed South Florida, foodsouthflorida.org.