Do you like Italian cuisine? Here are 5 good restaurants to try in Delhi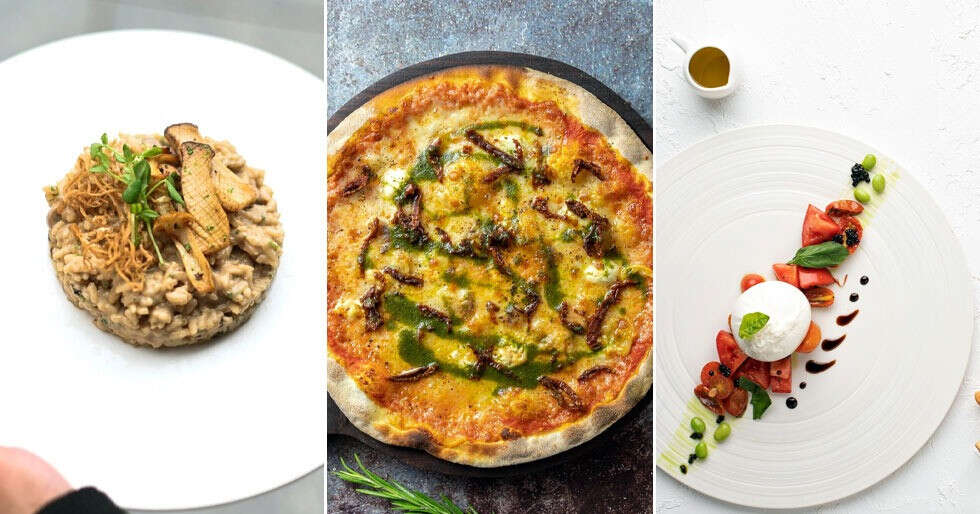 Chef Akanksha Dean selects five excellent Italian restaurants in the capital that will transport you to Rome

The capital's Italian restaurant scene is as varied as the food city itself. From the finest handmade pasta to trattoria-style seating, you'll find authentic Italian cuisine at these five restaurants…

The place
Hyatt Regency Delhi
The driving force behind La Piazza's enduring success has always been its commitment to bringing the authentic flavors of Italy to Delhi. It's the city's first trattoria-style Italian restaurant with live cooking, as well as the first to introduce customers to lesser-known Italian wines, and the country's first espresso and tiramisu. Its innovative dishes such as La Piazza pizza, truffle oil tortellini and freshly baked focaccia bread with olive tapenade make it unique among the handful of Italian restaurants in town. The restaurant has emphasized the open kitchen, which includes a classic wood-fired pizza oven that gives a typical flavor to the pizzas, as well as a counter displaying herbs and other food products from the land of this popular cuisine. , and, of course, the action of the chefs who cook pasta dishes and pizzas. Food is served pre-plate, except for lunch, where an antipasto and dessert buffet is offered with a choice of a pre-plate main course.
Pizza La Piazza (above) the restaurant's signature pizza, attracts food lovers from across the city in droves. The crust is thin and crispy, and customers can taste the unique flavor of the wood-fired oven. It's topped with sun-dried tomatoes, fresh and tangy basil pesto, creamy goat cheese and garlic.

Essential tests: Pizza La Piazza, Pizza Vegetariana, Spinach and ricotta ravioli, Spaghetti Aglio Olio, Spinach lasagna

Artus Restaurant
DLF Horizon, Gurgaon
There are no twists, no fusions and no shortcuts at this fine dining Italian restaurant. The cuisine is more than authentic Italian, its authenticity is specific to a region of Italy, Emilia-Romagna, where the promoter is from. Artusi Ristorante focuses on what it does best: a careful selection of the highest quality imported products and a constant insistence that all food preparations are homemade and handmade. In this kitchen, you will find the traditional fire-grilled meat and seafood, and, right next to it, high-tech pacojet and vacuum-packed creations. The menu includes a wide range of homemade pasta, many of which are vegetarian. The top-selling item is the artisan ravioli, filled with fresh spinach and authentic Italian ricotta, served in a green asparagus, butter, sage and Parmigiano-Reggiano sauce.

Essential trials: Gnocchi (potato-based only, without egg), strozzapreti, chitarra (handmade square spaghetti), and a series of cleverly shaped pasta pockets such as tortellino (Round), ravioli (in the shape of a square) and cappelletto (in the shape of a hat)

Pregnant
Westin Gurgaon
With chic decor in a vibrant color palette, rustic vibe, and contemporary alfresco dining, Prego offers state-of-the-art features with gleaming artwork, an interactive open kitchen, and expansive wine cellar. The large wood-fired pizza oven at the heart of the restaurant enhances the character of the restaurant and adds to the lively interactive ambience. The cuisine is rustic yet refined, steeped in tradition and prepared with the freshest ingredients. Expatriate chef Reno Serra hails from Trentino-Alto Adige, the northernmost region of Italy bordering Switzerland and Austria; its cuisine is hearty and steeped in centuries of history and cultural influences. His menu reflects his passion for rustic Italian cuisine, hearty portions, robust ingredients and rich flavors. A dish not to be missed is the wild mushroom risotto (above). The fusion of tangy, earthy truffle oil with the freshness of locally sourced portobello mushrooms makes this a winner.
Essential trials: Ravioli Ricotta and Spinach, Orzo Al Ortolana (risotto with roasted vegetables and barley with caramelized garlic), Gnocchi Di Patate Ai Quattro Formaggi, Insalata Di Pere E Gorgonzola, Orecchiette Con Pesto E Fagiolini

Sorrento
Shangri-La Eros New Delhi
Named after a beautiful coastal town in the southwestern region of Italy, this restaurant is a fine example of authentic Italian culture and gastronomy. Designed by Dubai-based Stickman Design, it features stylish yet warm and relaxed interiors that provide diners with an authentic Italian vibe. Square tables make the most of space in a busy restaurant, perfect for family gatherings. Sorrento takes an innovative approach to Neapolitan cuisine, with unique, inventive, yet relaxed flavors without compromising on traditional flavors to deliver hearty Italian classics but always with creativity and zest. Under the direction of Executive Chef Gagandeep Singh Sawhney, authentic Italian cuisine is presented with a unique contemporary twist.
Essential tests:
Sicilian Arancini, Pizza Bianco, Burrata Salad (above)Canestri Alla Norma (homemade short pasta, tomato, eggplant and ricotta), Ricotta Funghi, Vegetariana Pizza
Zanotta
The Leela Gurgaon
Stunning views of the city greet diners at this restaurant, promising a memorable evening ahead. The entry features carefully stacked Italian wines from a selection of over 1,500 wines from around the world. The focus is on regional Italian, dishes from Tuscany, Naples, Sorrento, etc., all popular and comforting as only Italian dishes can be. In addition, signature recipes that have marked all the menus since the creation of the restaurant are brought to light, such as Risotto Milanese, Ravioli with spinach and ricotta and branzino. Executive chef Abhishek Gupta works with local, seasonal ingredients and lots of root vegetables. Traveling around the world made him very familiar with Italian classics. Arancini is a star dish here. The restaurant makes arancini using the classic technique of slow cooking Arborio rice in a bain-marie to facilitate the slow release of starch; the rice is cooled in a wooden bowl. All these considerations, perfected over the years, ensure the unique texture of Zanotta's arancini; it's a dish that stands out here.
Essential trials: Arancini, Mushroom Cappuccino with Roasted Pumpkin and Truffle Oil, Spinach and Ricotta Ravioli with Sage and Butter Sauce, Grilled Truffle Polenta and Wild Mushroom Stew, Crostata Gianduia Cioccolato

See also: Do ​​you like oriental cuisine? Here are 10 good restaurants to try in Delhi